HELP YOUR COMMUNITY NEWSPAPER SURVIVE
Local newspapers are credible, trustworthy sources of community news on issues that affect their daily lives. During the pandemic, despite declining revenues, newspapers provided essential COVID-19 and wildfire coverage at no cost, in front of paywalls. Additionally, they hold the powerful accountable, and give voice on issues that would otherwise not be heard. The relentless pursuit of truth reflects an unwavering commitment to serve local communities.
Unfortunately, the state of the news industry is at risk. Without help from the legislature, local newspapers may close their doors, and newspaper carriers will lose their jobs at the beginning of next year.  Help your community newspaper survive.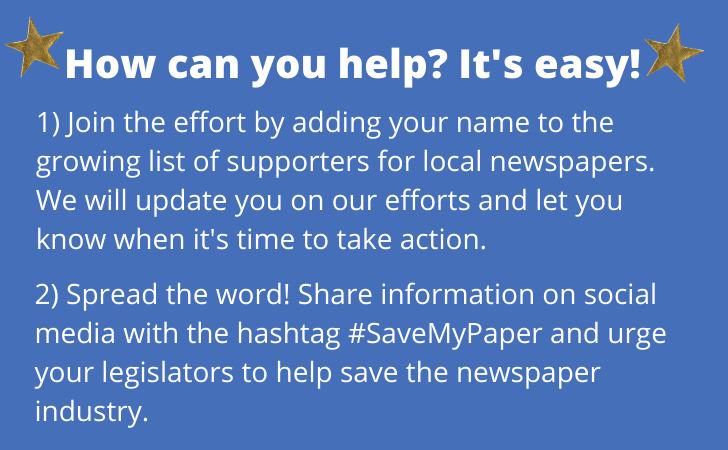 WHAT IS HAPPENING TO LOCAL NEWSPAPERS AND CARRIERS?
☞ The newspaper carrier exemption to AB 5 ends this year, and without legislative support journalists, photographers, printers, designers, freelance writers, carriers, and others may be left unemployed.
☞ Distribution costs will increase up to 50%.
☞ Over 38% of newsrooms across the state will consider closing their doors forever.
☞ Local newspapers, including local, ethnic, urban, suburban and metro papers, will be unable to sustain operations. They will close their doors, leaving many communities with no local news source.
☞ This will bring an end to dozens of local news businesses and thousands of newspaper carriers will lose their jobs. To avert these disastrous effects, newspaper carriers need to be exempt from AB 5.
☞ For those that continue to exist, news operations will be forced to make deep cuts to both print and digital community coverage and offerings in order to survive.
IF NEWSPAPERS DO NOT RECEIVE AN EXEMPTION, MANY READERS WILL LOSE:
☞ Home delivery of print editions.
☞ Local news reporters resulting in less hometown coverage,
Fewer investigative reports
Less coverage on community sports and events
No more features like comics, games
☞ Daily newspaper delivery.
☞ Vital community information on public health and safety.
☞ Ethnic newspapers critical for California's diverse population.
☞ The voice of a free media, a cherished institution enshrined in the U.S. Constitution.
WHY IS THIS HAPPENING?
The newspaper industry is experiencing a series of unprecedented threats that will ultimately affect readers:
Reduced ad revenue due to the pandemic and increased competition for ad placements from social media companies, will force newspapers to make difficult decisions such as layoffs, which will mean less coverage for communities.
Without newspapers, there will be a void for information that will be quickly filled by misinformation spread through social media.
Newspapers are in the midst of a digital transition that takes time to fully execute given factors such as elderly populations acceptance and the lack of broadband in many small, rural areas of the state.
---
For more information on how you can help contact Brittney Barsotti at 916-288-6006 or [email protected].